Delicate, precious, rich components which are nourishing and high in proteins, along with raw materials found in beehives such as honey, pollen, nectar, wax and propolis are the true and proper natural essences which inspired products in the new line of Trudi Baby Care, named Beehive Gifts.
Every single gift, based on its properties, has been studied to create a product which can bring out its natural characteristics. Thanks to how delicate and sweet their ingredients are, these products are particularly well-suited to children's daily care and hygiene, from that special bath time to the most repetitive diaper change. With the uniqueness of these products, and thanks to the characteristics of the Trudi brand, the time for hygiene becomes real playtime, shared with mum and dad.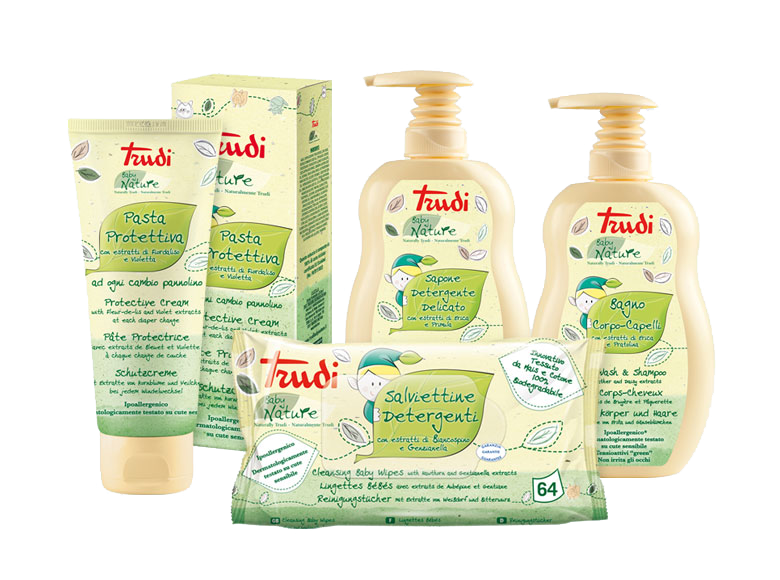 The Trudi Baby Nature line grows out of the idea of offering parents ideal products for their children's skin; they are products which truly respect the environment, and so not only the present — but above all the future of the planet. From the choice of the ingredients to the packaging, to everything that has to do with its ecological footprint in the entire life cycle, every aspect of these products has been has been designed to have the least possible impact on the environment without reducing effectiveness.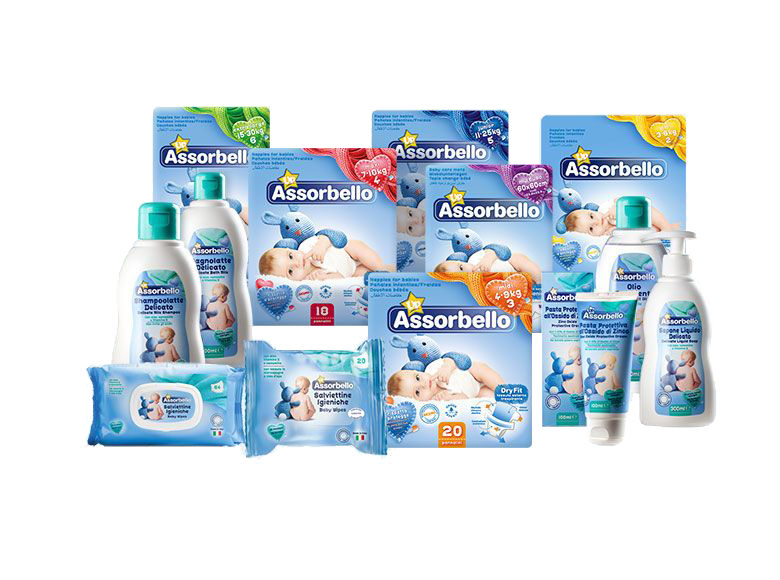 A product line for the smallest among us: delicate, safe and as special as mother's care.
Our longest-running brand of diapers, Assorbello, offers a line of products today which truly covers the whole gamut of needs. There are essential products for changing time: diapers with breathable external fabric, a disposable hygienic liner, practical scented wipes, protective zinc-oxide cream with a barrier effect. Add to these all the products for baby's hygiene (delicate bath milk, delicate shampoo milk, delicate liquid body wash and soothing oil). Thanks to the quality of Assorbello Up products, even the most hard-to-please mother will find that delicate touch and safety she has always been looking for.