For many years reduction of our ecological footprint has been a priority of ours which has led us to make production-related choices and to put to work a wide range of activities aimed at continually improving the results we obtain.
Environmental concern needs to be common to all people who collaborate with us as well as those with whom we come into contact. It is for this reason that we promote specific training and we support best-practices through prizes and other means of recognition.
This is a never-ending process: each year we assess the availability of updates in technology, of new raw materials or of production modes which can allow us to continue along our path to reducing our environmental impact.
Let's take a look at some of the important areas which display our commitment.
Materials
The cellulose we use for our manufacturing is rigorously PEFC certified (Programme for the Endorsement of Forest Certification). This means that the environmental impact connected to the tree harvesting needed for having available raw material is eliminated thanks to specific reforestation efforts, which are strictly certified.
By choice, we use only raw materials which are certified to be free from dangerous, toxic, carcinogenic or mutagenic substances.
Production processes
During production we do not use chlorine or damaging whiteners, showing specific attention for the safety of our clients and for the reduced impact our production can have.
For example, from 2009 to 2013 we reduced by 40% the number of pieces discarded during production, and year after year we have reduced production waste material to a minimum.
Furthermore, as of January 2015 the entire plant is run on energy which is 100% from renewable sources.
Packaging and distribution
The packaging used for our products is in large part recycled cardboard and logistic processes are continuously examined to find ways to improve them. For example, by reducing transport volumes, the number of lorries on the road is reduced.
Waste disposal
We pay the highest attention to products' entire life cycle and we engage the whole distribution chain, even down to the last client, by sharing dedicated guidelines and specific checks.
People who work in our company every day are involved in the widest range of activities. At any level and in any role, they have to: make decisions; interact with clients, suppliers and other institutional interlocutors; ensure production quality; and much more.
Whatever activity is being performed, the daily commitment is guided by the code of ethics adopted by the company many years ago. It is made up of true guidelines which underline our common desire to do our best at creating value which is not only economical but also environmental and social, creating synergies with the local area and supporting valuable causes.
The code of ethics, which is shared with our suppliers as well, underlines specific commitments to transparency and probity, going beyond specific legal requirements. It also highlights attention for safety, that of workers and of products, as being one of the company's highest priorities.
These guidelines then translate, year after year, into concrete initiatives: from numerous training courses to specific incentives for the adoption of virtuous practices, including an approach which shows respect for the environment.
Support for deserving initiatives fits well with the commitments we have made in our code of ethics; in this sense we gladly support two important organisations: the Francesca Rava Foundation and ABIO Italia. (Both are "ONLUS", or socially useful not-for profit organisations.).
Fondazione Francesca Rava ONLUS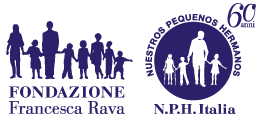 This organisation works to provide support during infancy where there are situations of economic hardship or strain in Italy and elsewhere in the world. The Fondazione Francesca Rava works through various forms of volunteer action, child sponsorship and educational projects focusing on the delicate topic of children's rights.
The Italian branch of an international humanitarian organisation, Nuestros Pequeños Hermanos (NPH), the Fondazione Francesca Rava has defined its values as being independence (from political or religious influences), sincerity, concreteness, financial transparency and efficiency. They have reached a point where they contain management costs for their various activities within the threshold of 5%, so as to allocate 95% of received donations to situations of emergency and risk, which the organisation finds itself facing on a daily basis.
To support the activities of the Fondazione Francesca Rava, please find the necessary information on their official website.